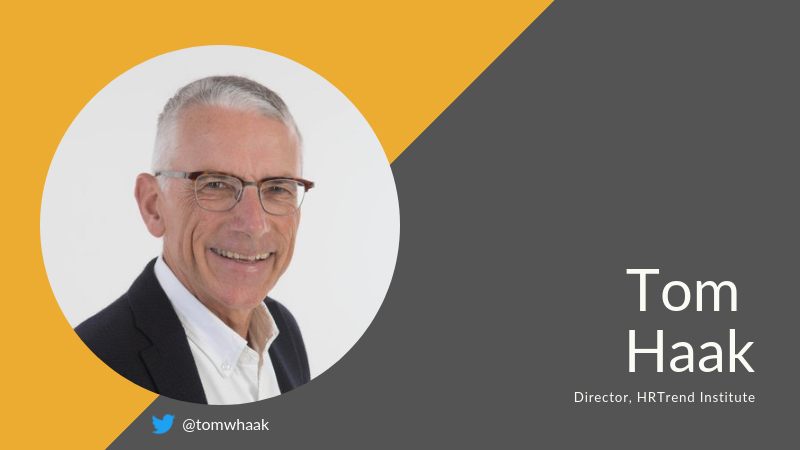 Tom Haak is the director of the HRTrend Institute. The HR Trend Institute follows, detects, and encourages trends. Tom is considered to be one of the leading global HR thought leaders. We asked him for his insights about the present and future of HR.
This interview has been edited and condensed.

What HR trends do all companies need to be aware of right now?
I would like to highlight a couple of historical trends. The first one is personalization. Traditionally, HR has focused on standardization and one-size-fits-all. Shifting to an approach where the individual needs and capabilities of candidates and employees are the starting point is challenging, but essential. HR can learn a lot from marketing here; all areas of HR can benefit from personalization.
Number two is increased speed. Everything can and will be faster. The expectations of candidates and employees with respect to speed are also increasing. HR is traditionally slow, and there are numerous opportunities to move faster.
It is worthwhile to look at your HR processes and practices and check them against these two trends. Are we able to personalize and/or are we able to increase speed? Of course, technological developments are a powerful driver to improve the impact of HR in all areas.
How are the strong economy and low unemployment rate affecting HR?
The most urgent issues of today impact the real priorities of HR, which is why recruitment always gets a lot of attention. You still hear people talking about The War for Talent. This term was first used in 1997, more then twenty years ago, and it is still used. It is remarkable that the attention is not shifting more to learning and development and increasing productivity. If you cannot find the people, you better make sure the potential of the people in your organization is used to the max.
Personalization is also important: are you able and willing to tailor the opportunities to the needs and wishes of the available people? HR can be more assertive, and instead of launching yet another recruitment campaign, become more creative in deploying the existing workforce.
What role do you see technology playing in the future of HR?
The role of technology is increasingly important. Technology helps to increase the impact and efficiency of HR in all areas. I already mentioned personalization and the need for speed, and technology can help in both areas.
HR is becoming more and more fact-based and data-driven. People analytics, powered by clever technology, is accelerating. I often say: technology will help HR to become more human. Technology will take away the burden of HR operations, and allow HR to focus a lot more on improving the candidate and employee experience. We might need a different breed of HR professionals. We need HR professionals who love data, technology, and people.
How can recruiters use assessment tools to improve their candidate evaluations?
Selection is changing. In the past, the focus was very much on the fit between the experience and capabilities of the candidate with the extensive job profile. The selection criteria derived from the job profile were often not evidence-based. With the people analytics tools of today, you can determine which criteria are relevant.
Today, organizations are looking for specific capabilities, personalities, and cultural fit. To test, all of these great tools are available. Gamification can be used to make the tools more attractive for the candidates. Current assessments can be done faster, can be more fun, and the outcomes can be more relevant. Video interviewing is also increasing, allowing candidates to answer interview questions 24/7. Chatbots are increasingly used as the first interface between candidate and organization. Chatbots can also be used to administer the first tests. Even if you still run a very traditional process, you can use technology to improve your process, e.g., by using technology for cv selection.
What is the biggest misconception people have about HR, both from the perspective of job seekers and from the perspective of professionals outside of HR?
The image of HR is not always good. The biggest misconception is maybe that HR is seen as representing management in the organization, and not as an advocate for the candidates and employees. Trust is important here. Another misconception: HR is not good with figures. The modern professionals — and there are many — are true multi-disciplinary professionals. They have a solid scientific education, are well-trained in methodology and analytics, know a lot about psychology, and have a real interest in people and business.